PLEASE READ THIS POST!  We have an anonymous donor who has challenged us to raise $5000 this month and if we do so, s/he will multiply it by 5 to give us a total of $25,000!  We have raised $1,000 so far and have just until August 10 to raise the addtional $4,000.  Please Help Us.  Even if you only donate $20 that means you donated $100.  If you donate $200 you have donated $1,000, and if you donate $250 that turns into $1,250, enough to feed, medicate and clothes all the sisters and the children for an entire month!  With these funds Mother Germain and her children will have food and medications for a year, and we are hoping to use the rest to purchase some of the land she is renting, and procuring a professionally drilled well for fresh water.  PLEASE TELL OTHERS so that we reach our goal.  We have never had this opportunity before and may not in the future.
Meet Remy:  The first photo is of Remy when he was found abandoned outside a church. He had a mass on his liver that had become infected so he was taken to the hospital for surgery and medications.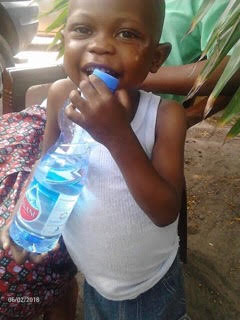 The last photo is of Remy now.  Thank you to all our donors for helping to supply children like Remy with the medical care they need to live.  Remember – every penny you donate goes to the orphanage.
We thank you and God bless you.