HOW YOU CAN HELP

Has God called you to help the Sisters of the Congo and these children?

You ARE needed and here's why.
The Sisters survive on the generosity of others. Often neighbors will drop off yuca or other food, but it's not enough for this growing family.  They are not funded by the government, the Church or any grant.  Their monthly needs are provided by individuals who know that every dollar they donate goes directly to the children for food, medication, housing and education.  Not a penny is spent on advertising, salary or other expenses.  We, "The Friends of the Sisters of the Congo" are all volunteers.
ONGOING DIFFICULTIES: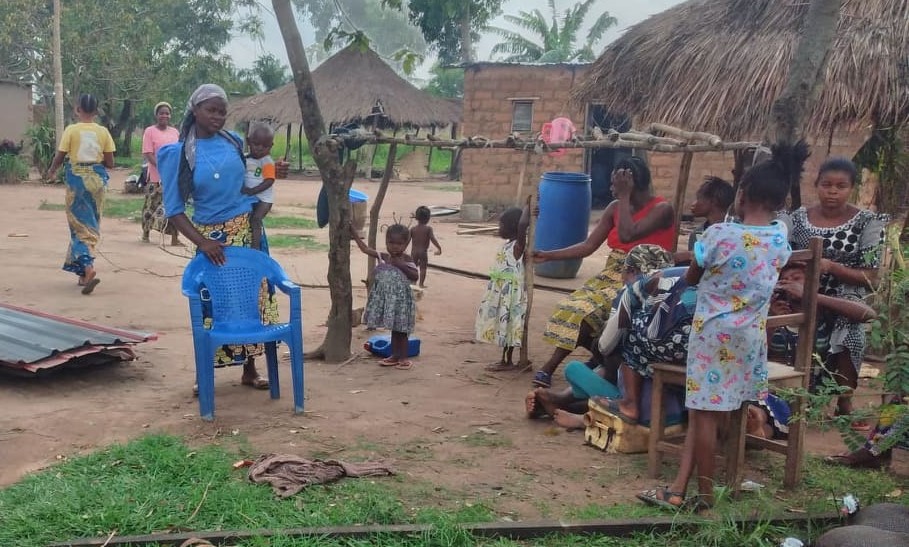 Mother Germain stated that the following is their list of ongoing needs.  No matter what other needs come up, these never go away.
Lack of food
Lack of medications
Lack of medical care
Lack of bedding
Lack of clothing (or fabric for clothing)
Lack of formula for newborns
WISH-LIST:
In addition to the ongoing needs, Mother has a wish-list to help with the above issues.  These are things she and the sisters "dream of" if they ever get the extra funds needed to procure them.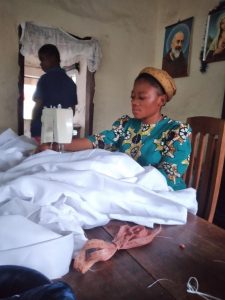 EDUCATION
Education for the Children: While elementary school education is free for children in the DRC, education for those in 6th grade on up is too expensive for the majority of the population.  There are many children in our orphanage who would like to obtain a high school level education but cannot.  Tuition is $465 per year and includes a uniform, books and supplies.  If you would like to sponsor a child, please contact us.  You will receive a photo and updates throughout the year.
Hiring teachers for the Children: We would like to hire 2 teachers at $200/month each for 7 months a year to educate all of our children.  We would hire the best teachers available (most teachers in the DRC only receive $175/month).  This way we can educate all of our children for much less and afford them an even better education than would otherwise be possible.
Training our Nuns to be Teachers: We can start now to select two of our nuns to become teachers themselves.  When they are certified, they could supplement or take over the teachers we had hired as needed.  Our goal is the best education possible for our orphans, so that they can become productive members of their society.  Teacher education is $750 per year, which includes materials and books.  Once done, our children will be assured a faith filled curriculum that is unsurpassed in the region.
 HEALTH
Training our Nuns to be Nurses: We are already in the process of training one of our sisters to be a nurse.  Mother Germaine would like 2 nurses.  With almost 100 children and 35 sisters to care for daily, having on-site medical care is essential.  Currently the nearest clinic is more than 40 minutes away.  Nursing tuition is $795 per year and includes uniform, medical supplies, books and tuition.  We are hoping a sponsor will help us to educate another sister for the three years it will take to become a certified nurse in the DRC.
Funds to supply a small clinic: Supplies such as Tylenol, band aids, stethoscopes, 2 sick beds, sheets and thermometers are needed to supply and on-site clinic for the sisters and children.  A donation of just $300 would fully stock the clinic.
A borehole for water!!! It is so difficult and expensive to procure water for so many sisters and children on a daily basis. Having their own borehole would be a dream come true, and would assure that the children have access to fresh and unpolluted water for health and growth.
A fence for protection: The current wood fence blew down in a windstorm and now there is no protection. Already, thieves have stolen the habits of the nuns while they were in the chapel. Also, the children can no longer play outside safely (kidnapping is a very real threat in the Congo, as is child labor and child trafficking). A new concrete fence (the norm due to fire hazards and wind) will cost $18,000. We are hoping someone will be able to make this a reality sooner rather than later.
A Vision Team: A team of volunteer optometrists with glasses would assure that each child has the vision necessary to see in their daily lives and at school.  Our children have never had their eyes tested.  Now is the time.  Do you know of someone who could help?
MOTHER'S BIG DREAM
We are hoping for a new campus to bring the spiritual, physical and emotional needs of the children together in one location.  We currently have five locations because we have grown out of each of the previous locations.  While it is truly a blessing to be able to care for so many children, it would be efficacious to do it from one primary campus.  Additionally, the current location is in the middle of the city and right next to a bar. Peace and quiet is not something that the current main campus provides. Mother Germaine was given a beautiful rural parcel of land that would be a safe home for all. She is now praying that the funds for a dormitory, school clinic and Chapel will be forthcoming. If so, all the children would have a peaceful and safe home in which to thrive. This will take to heart and funds from one or a few benefactors. If you know of someone who truly wants to make a long-lasting difference in the lives of orphans, please let us know. God will bless them ten-fold, and their reward will be great in heaven.